Hey Girls!
Today I've prepared a short review of vitamin C face serum brought out by Nanoil – so, if you're currently looking for a skincare product enriched with vitamin C, then I'd definitely recommend this product. My skin immediately got along with Nanoil Vitamin C Face Serum the very first time I used it, and therefore I'm sure that this cosmetic will stay with me for good.
And if you're curious why I like it so much, carry on reading!
Nanoil brightening face serum
This cosmetic is pretty inconspicuous, I'd say. A small bottle (1.69 fl. oz) made of dark glass with a white and gold label on it. It truly looks good but this is not its appearance that matters, right?
The most important are the effects, and Nanoil Vitamin C Face Serum surprised me very, very positively with those. To me, this is the best vitamin C face serum and I'm not surprised why even celebrities use it. Since Nanoil serum was recommended to me by my friend, and this is how I know that this formula is truly effective and satisfies its users, not only me. Perhaps it will turn out to be good for you too?
It's worth pointing out that Nanoil's offer is bigger, and contains other face serums that you can match to your current skin needs. These products are formulated with retinol, aloe and white tea, and they even have a separate serum for couperose skin.
Apart from vitamin C, what else can you find in the formula?
As far as vitamin C face serums go, Nanoil is an incredibly well composed product. There is no more than a couple of ingredients only making up this cosmetic, which to me is a huge plus – I don't like applying cosmetics that are made from the entire periodic table. I'm sure neither do you.
And here, there are two main ingredients being on our beauty's service:
3-O-Ethyl Ascorbic Acid, which is vitamin C in one of its most stable forms.
Boerhavia Diffusa Root Extract, which is a potent plant-derived antioxidant.
Nanoil serum doesn't contain any artificial colorants, aromas, parabens, phthalates or mineral oils. The formula is vegan and natural.
How does Nanoil vitamin C serum work?
The texture of this serum should be likable by those who have had some bad experience with oil-based skincare products. Nanoil Vitamin C Face Serum is an ultra-lightweight, water-based face serum that penetrates skin fast without creating any oily feel but leaving you only with the feeling of fresh, moisturized and nourished skin.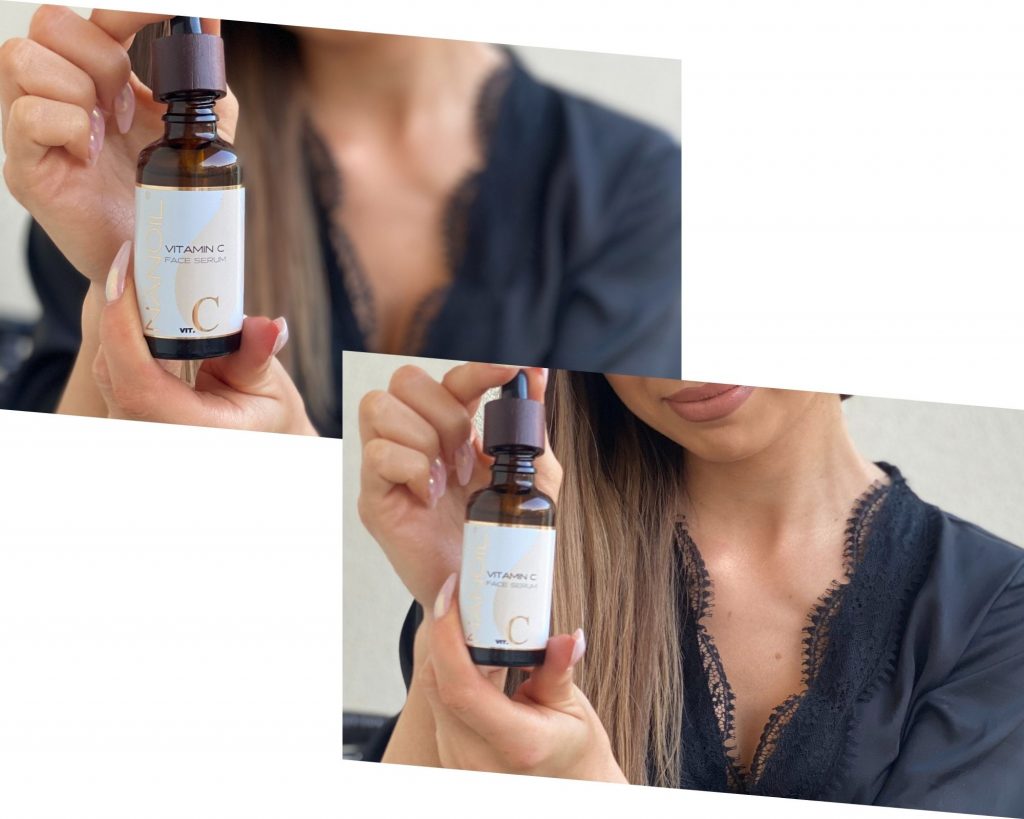 Naturally, you need to wait a little bit longer to see more benefits and improvement in your skin's appearance. I used Nanoil face serum regularly and it took me 2-3 weeks to see that:
my skin is far smoother and glowing.
pigmentation spots are either brighter or have disappeared completely.
skin tone is even.
skin is no longer irritated, I can feel it being moisturized.
my face looks much better, generally speaking.
This effect is owed to the fact that on one hand Nanoil Vitamin C Face Serum improves moisture levels, nourishes and repairs skin, and on the other it provides protection against aggressive agents such as free radicals and the sunlight. Another good thing to mention is the ascorbic acid's brightening effect, thus it's able to leave your skin luminous. To be honest, it's hard to describe all the effects, you just have to feel them on your skin, and therefore I'd wholeheartedly encourage you to give Nanoil serum a go.
Where can you buy Nanoil serum?
All information concerning ingredients, correct application and destined use can be accessed on the official Nanoil page: nanoil.co.uk. There you can also order not only the vitamin C serum but also other Nanoil beauty products choosing convenient home shipping.
If you have and use this serum, leave a comment telling how it works for you.