Hello Girls 🙂
I'm glad you've visited my blog again, I truly do. That's why I'd like to recommend more beauty products to you. I know that you've waited really long for me listing these cosmetics, so here it is – my personal ranking of the best hair masks.
There is one thing I'd like to point out – please bear in mind that the list below is very subjective. The hair mask that I'm going to review in a moment worked for me, which means that you may notice slightly different results than I did. Nevertheless, I truly believe you shouldn't be disappointed by any of them.
7 BEST HAIR MASKS
No 1.

Keratin mask Nanoil for damaged hair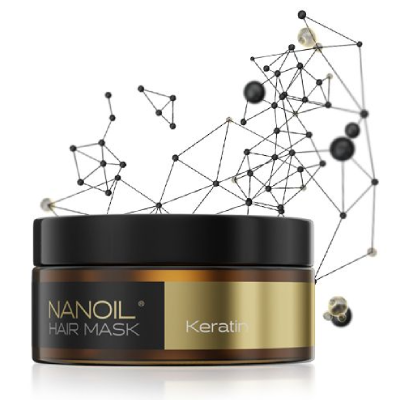 In the first place the one and only Nanoil keratin hair mask. I fell in love with the results from the first use and I guarantee that you'll fall in love with them too. This product is brilliant. Despite having a cream-like formula, it doesn't weigh my hair down. Instead, it envelops the strands with a wonderful fragrance. Nanoil Keratin Hair Mask promotes sleek hair, making it resistant to frizz. I also like that I don't have to keep it on my hair long because just 5-10 minutes are enough for the mask to do its magic. I'd also like to add that – in my opinion – Nanoil Keratin Hair Mask offers the best solution for dry, dull, damaged, brittle or splitting hair. I believe that this action is owed to the composition. The Nanoil mask contains hydrolyzed liquid keratin and provitamin B5, which maintains hydration. What else can I say… You just have to try this mask. You won't regret it!
No 2.

Smoothing hair mask Kerastase Discipline
I guess no hair mask ranking can be complete if it doesn't include a Kerastase product. The biggest problem I have with this brand is their pricing. I mean, aren't the prices too high for you? Anyway, the effects are impressive. Kerastase Discipline Mask leaves you with smoother hair that is easy to comb, deeply nourished and soft. Made mostly of keratin, the Morpho-Keratine complex leaves hair more resilient and bouncy. I also need to add that Kerastase Discipline hair mask needs just 5 minutes per session to improve your hair. The product is creamy and easy to spread along the lengths, but when used in excess, it may deprive your hair of volume. Just keep this in mind while applying this mask.
No 3.

Hair mask Kevin Murphy Hydrate-Me
I've got something special for those with dry and dull hair – the unique Kevin Murphy Hydrate-Me hair mask that isn't just a regular hair product Why? Just look at its packaging! The pastel colors that are pleasing to the eye. Inside, you have a cream-like aromatic formula. I truly regret that the aroma doesn't stay on the hair a little longer. The most important thing, however, is the effect it creates, right? Kevin Murphy Hydrate-Me proved to be a moisturizing hair mask. It's formulated with various plant oils such as evening primrose oil, rosehip oil, kakadu plum and bergamot oil. Apart from that it also contains shea butter, vitamin C and seaweed extract. This means that once you start using Kevin Murphy Hydrate-Me on a regular basis, you can take nourishment and hair repair for granted.
No 4.

OUAI Hair Treatment for thick hair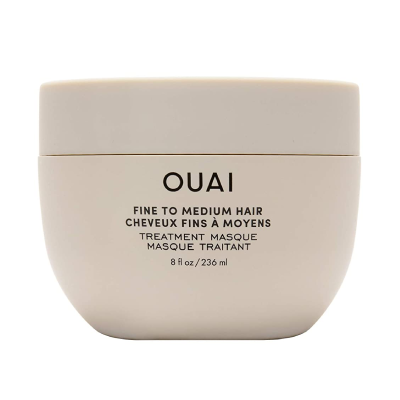 Those with thick and voluminous hair have a hard time finding a good hair mask for themselves. Fortunately, I managed to find a product that suits such hair, and its name is OUAI Moisturizing Mask for thick hair. Actually this is the very first OUAI cosmetic that I tested. I find this mask dense, almost butter-like and very full-bodied, which serves thick hair well. It's made from shea butter, illipe butter, almond oil, macadamia oil, olive oil and hydrolyzed keratin, which is basically everything that hair needs to be strong, resilient and good-looking. However, OUAI Thick Hair Treatment is rich in saturated fatty acids that don't work for some hair types.
No 5.

Hair cream Phyto Phytokeratine Extreme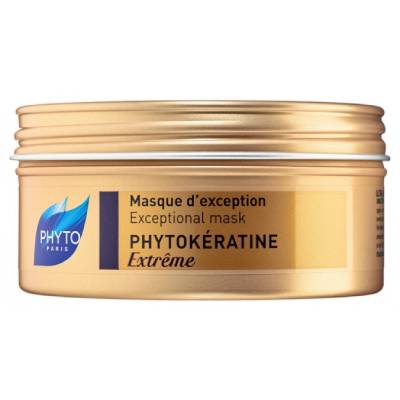 Another oil-rich hair mask that I'd like to recommend is Phytokeratine Extreme by Phyto, sold in two versions: a regular hair mask and a hair cream available in a bottle that comes with a pump (I prefer the latter version). It's formulated with plant-based keratin that has as many as 18 different amino acids that are responsible for slowly reversing damage in hair. Additionally, Phyto Phytokeratine Extreme has sapote butter and oil extracted from baobab tree. This is how this hair mask is able to nourish, discipline the hair, combat frizz, smooth out and add shine. I didn't see it depriving my hair of volume, yet it definitely tames the wisps.
No 6.

Argan oil hair mask Moroccanoil Restorative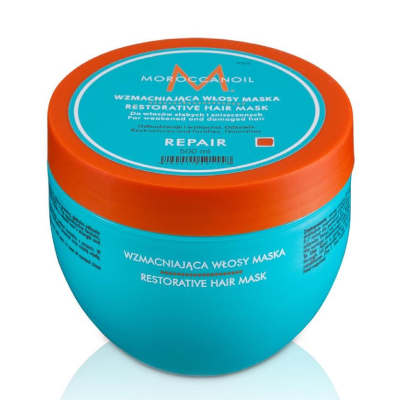 What plant oil is the most popular one in hair care? Well, of course, the oil extracted from argan tree kernels. Indeed, this oil has the biggest hair repairing potential: it nourishes, regenerates, hydrates and provides protection against UV light and high temperatures. That's why the Moroccanoil brand incorporates argan oil to all its products. In the Moroccanoil Restorative hair mask in particular, this oil is combined with plant-based proteins that are responsible for strengthening and fixing damaged hair structures. However, don't expect these effects to appear overnight – the hair treatment with Moroccanoil mask requires you to be patient and use it regularly.
No 7.

Damage reversing mask Macadamia Deep Repair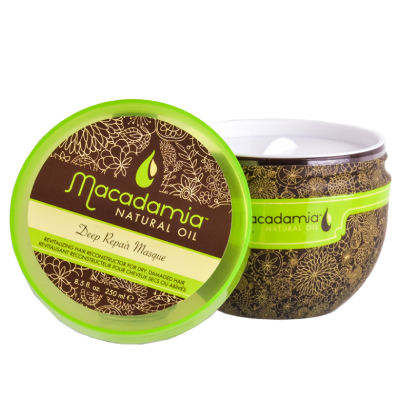 I left a budget-friendly product for last because not everyone can afford (or want to spend a lot of money on) pricey hair masks. Macadamia Natural Oil Deep Repair Masque comes in several sizes, and therefore the price range is wide. It's designed for dry and damaged strands that need repair and reinforcement. Naturally, to get better-looking hair, you need to use this mask regularly. Therefore, keep putting Macadamia mask on hair after every single washing to allow the ingredients – macadamia, argan and tea oils, as well as algae extract and aloe juice – work to your advantage. Soon your hair will be shiny, elastic and look healthier. Great product!